Earthquake-Report.com is happy to inform you that the Indonesian (Bali)  Hotel Industry has taken the lead in Tsunami preparedness
Tsunami early warning times in Indonesia are extremely short and range between 15 to 35 minutes from a tsunami triggering earthquake to the arrival of the first wave. That is why it is especially important to be well prepared to mitigate and react to the tsunami threat in the most efficient and targeted way. There is no time to waste once the warning is out.
The tourism industry in Indonesia, especially on the resort island of Bali is aware of this challenge.
Bali Hotels Association [BHA], an association of over 100 star rated hotels is a strong supporter of 'Tsunami Ready' - many tsunami procedures were developed in cooperation with its members. The Indonesian Ministry of Culture and Tourism [BUDPAR] is another important partner.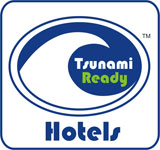 So when holidaying in Bali or elsewhere on Indonesia's magnificent coastline make sure your hotel is 'Tsunami Ready Certified'. For a worries free holiday and peace of mind on the beach.
Tsunami Ready certified hotels in Bali :
A place is 'Tsunami Ready' 'certified' once a successful 'on site' audit was conducted by 'Tsunami Ready'. During the audit we make sure that all policies and procedures are in place and working well. If necessary we retrain staff and redraft and re-implement unsatisfactory preparations. 'Tsunami Ready' certified places are authorized to use the 'Tsunami Ready' logo and are announced to travel agencies, embassies and consulates worldwide.
AYANA Resort and Spa : Jimbaran - Bukit
St. Regis Bali Resort : Nusa Dua Beach
The Laguna Resort & Spa Bali : Nusa Dua
Tsunami Ready registered hotels in Bali :
Places which are 'registered' have applied for 'Tsunami Ready' certification by submitting a very comprehensive and detailed audit document to 'Tsunami Ready'.  If the document meets 'Tsunami Ready' standards the place is 'registered' and listed on our website.
'Tsunami Ready' registered places need to be certified within 6 month after registration; otherwise they lose their 'registered'' status and are deleted from our website.
Conrad, Bali : Tanjung Benoa - Nusa Dua
Discovery Kartika Plaza Hotel & Villas : Tuban/Kuta Beach
Hotel Sanur Beach Bali : Sanur Beach
Hard Rock Hotel Bali : Kuta Beach
Ramada Benoa Resort Bali : Tanjung Benoa Beach
The Haven : Legian/Seminyak
Nikko Bali Resort and Spa : Nusa Dua
Melia Bali Villas & Spa Resort : Nusa Dua Beach
W Retreat & Spa - Bali Seminyak
Sanur Paradise Plaza Hotel & Suites : Sanur Beach
For an updated list of the "Tsunami Ready" hotels: http://www.tsunamiready.com
AYANA Resort and Spa Bali - the first certified Tsunami Ready hotel
Although AYANA's cliff-top location 35 meters above the ocean puts it and its guests at low-risk in case of a tsunami, the hotel wanted to be prepared to take care of guests in case of any emergency.
"We may be considered low-risk because of our cliff-top location, but that is no reason to be complacent," said AYANA's General Manager Charles de Foucault. "This certification will enable us to safeguard our guests and also assist with people from outside the hotel who may come to AYANA to seek refuge on higher ground, in case of a tsunami."
Alexander Kesper, senior CIM advisor to the Indonesian Ministry of Culture and Tourism, congratulated AYANA on being the first hotel to achieve certification, despite it not being at high-risk. "AYANA exceeded our standards in terms of safety and evacuation procedures, and as a Tsunami Ready Hotel, AYANA guests can be sure that a well prepared team will take care of them in case of emergency," Alex said. "Significantly, the resort's management showed great initiative as they had already registered for Tsunami Ready certification before the devastating earthquake and tsunami that hit Japan in March. That disaster further drives home the need for other hotels to be prepared, especially those located on beach-front land."
Website : http://www.ayanaresort.com/